Are the coolers and shelving in your stores in need of a facelift?
HARRIS COATINGS ONSITE REFINISHING IS YOUR BEST OPTION
Advantages to the Harris Coating Systems electrostatic method:
No overspray, no need to empty the coolers
Clean, professional "Factory-like" finish
No downtime for your customers so your store stays open everyday
Scratch and chemical resistant coatings
Any colour including metallic finishes
Your customers will appreciate the clean modern fixtures while shopping
A durable, long lasting coating applied electrostatically on-site overnight
Family business servicing B.C. grocery stores for over 25 years
Our coatings integrity is guaranteed for 2 years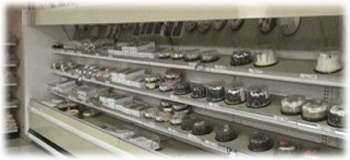 Combining the clean, electrostatic process with the toughest on-site coatings available make Harris Coating Systems the right choice for refinishing your grocery fixtures.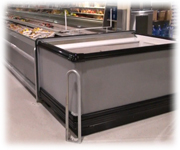 Our process is so clean that the cases don't even need to be emptied when refinishing the exterior skins. The only way you'll know we were there is the beautiful, new finish on the cases.
The coatings we apply are some of the toughest available in the industry. The very first two-component polyamide epoxy formulated for interior use with electrostatic hand guns,the Epoxy Glaze coating is unequaled for a combination of adhesion, toughness and chemical resistance. Heat resistant to 170°F.