Do you have those mismatched, multi coloured file cabinets spread around your office?
HARRIS COATINGS CAN FIX THAT IN ONE SIMPLE STEP WITH OUR ON-SITE REFINISHING PROCESS
Advantages to the Harris Coating Systems electrostatic method: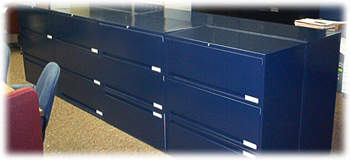 If you need to rearrange some cabinets to other areas of the office we can take care of that at the same time. We have the tools and experience to make the changes that will make your office look great
You also get a GUARANTEED quality of finish, the colour you want and completed on time
During your move, we can refinish your file cabinets in our shop and deliver them, shiny and new, to your new offices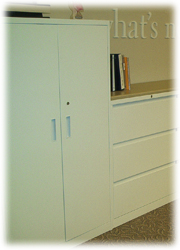 Here are a few of the advantages of having Harris Coating Systems electrostaticly refinish your metal office furniture:
No need to empty the filing cabinets – Just clear off the top, tag the piece with a post-it note, and your part is done! What could be easier than that?
All work is done after office hours and/or on weekends – We will come in after office hours at no additional charge to minimize any inconvenience to your business operations. When you come in the following morning, all cabinets are back in place, ready for use, and your office is just as clean as you left it.
We match any colour – The colours that furniture manufactures offer for their filing cabinets are limited. Give us a colour swatch and we'll make up a metal sample for your approval prior to doing the work.
For the last 25 years, Harris Coating Systems has refinished over ten thousand filing cabinets on-site for hundreds of customers. Call us for a free estimate.