Does your property suffer from


FADED ALUMINUM WINDOW FRAMES?
WE HAVE THE SOLUTION! "ON-SITE" ELECTROSTATIC REFINISHING
Advantages to the Harris Coating Systems electrostatic method: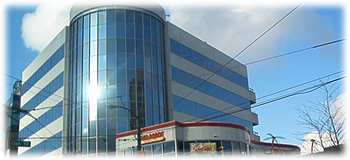 No downtime to your business
Professional, "Factory-like" finish
No overspray, very clean application
UV and chemical resistant coating
Any colour including metallic finishes
Fraction of replacement or re-capping cost
Family business servicing B.C. for over 25 years
Coating integrity guaranteed for 2 years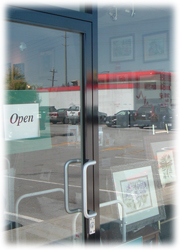 CALL US FOR A FREE ESTIMATE AND SPECIFICATIONS
One of the biggest problems facing building owners and property managers today is faded and chalky aluminum window mullions and entrance doors. Professional image is of utmost importance in a competitive real estate market.
They can be replaced or re-capped, but the cost for this involved procedure often exceeds most budgets.
The cheapest solution is to hand paint them with a brush and roller, but the aesthetic appearance and long term durability of this application often leaves little to be desired.
Spraying such a small surface conventionally with forced air is neither clean nor efficient.
Electrostatic Refinishing using the Ransburg #2 handgun is by far the cleanest, most cost efficient and aesthetic method to refinish aluminum window mullions and doors. In most cases there is little or no downtime to businesses. The "factory-like" finish that Harris Coating Systems applies is as tough and durable as it is beautiful.