Peace of Mind - Guaranteed!
Everyone who has ever handled a renovation or construciton project knows that there is usually a certain amount of stress involved. At Harris Coating Systems, it's our goal to help minimize that stress.
Whether you're an office manager looking to refinish filing cabinets, a property manager responsible for the aesthetic appearance of his/her building fixtures, or a seasoned project manager looking to meet the specifications outlined in the architect's blueprints, it's your job to make sure that you get the best job, for the best price.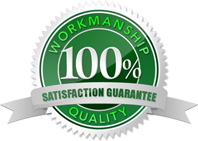 Some of the foremost concerns in running a successful project are:
Quality in Coating and Workmanship
Budget and Cost
Safety
Schedule, Timeline and Availability
Guarantee
Quality
As the old adage goes, "Quality stands the test of time." Having serviced B.C. for over 25 years, Harris Coating Systems has established themselves as the leaders in the electrostatic refinishing industry in western Canada. Using only the very best coatings applied by the most experienced refinishers in their field makes Harris Coating Systems the right choice for your project. Quality is our top priority - Guaranteed!
Budget
Worried aobut going over budget? Upon discussing and viewing the scope of work, Harris Coating Systems will provide a free, written quotation for your project. There are no hidden fees and no additional costs for working after hours or on weekends. Harris Coating Systems will only charge for the exact dollars quoted - Guaranteed!
Safety
All of our staff are fully trained in the use of our specialized equipment and follow all W.C.B. safety protocols. Our crews are all trained and certified in Level 1 Industrial First Aid. Harris coating Systems is in good standings with W.C.B. and carries a $5,000,000.00 liability insurance plan. At Harris, we've got safety covered - Guaranteed!
Schedule
Timing is a crucial factor in most projects. Harris Coating Systems will gladly work your project after normal business hours, or on weekends if that works better for you - at no additional cost and on time - Guaranteed!
Guarantee
There's no sense in bragging if you can't put your money where your mouth is. At Harris Coating Systems, we stand by our quality of finish and guarantee our coating's integrity for two years. For the duration of the guarantee, Harris will visit the site twice a year for touch up, polishing or re-shooting if necessary. Customer satisfaction is foremost in our goals, not just for today, but tomorrow as well.