The Most Efficient Applicator for On-Site Refinishing
The Ransburg No. 2 Gun is the most efficient applicator for on-site finishing. The Gun's high transfer efficiency provides improved productivity, reduced operator fatigue and higher quality finishes. Reduced labour and material costs, as well as reduced clean up are just a few of the benefits.
The portable unit, utilizing the No. 2 Gun, power supply, cart and accessories, makes it well suited for a wide variety of applications. It goes where we need to go. Its portability makes it perfect for offices, schools, hospitals and maintenance areas. Typical uses include metal furniture, lockers, fences, railings, storefront mullions and file cabinets.
The Ransburg No. 2 is the professional on-site refinishing unit.
FEATURES AND BENEFITS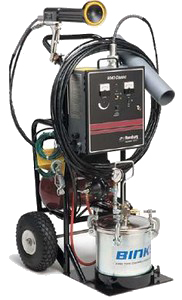 Superior Coatings… durability and design allows application of high quality paint products.
Improved Atomization … gives a higher quality finish.
Enhanced Spray Pattern … delivers maximum control from a small, center sprayer outlet design.
No High Fluid Pressure … delivers greater application control and less overspray.
Portable Cart Design… the straightforward design makes the unit easy for one person to handle.
The Carts Low Center of Gravity… allows for easy manoeuvrability and strain-free transportation.
The Carts Small Foot Print… offers ability to reposition into tight and confined spaces.
Lightweight design… allows user-friendly mobility and transportability.
The No. 2 Gun offers 95% transfer efficiency . . . reducing paint waste means an extra cost savings for you.