About Harris Coating Systems
Harris Coating Systems is a family owned and operated business that has provided B.C. with the highest quality in on-site electrostatic coatings for over twenty-five years.
Being the pioneers of electrostatic painting in B.C; Harris has established themselves over time as the leaders of the industry in western Canada. We believe it's quality that stands the test of time, and that credo has been the cornerstone of our success.
As every good business person knows, a company is only as good as the people it employs. At Harris Coating Systems, we've been extremely fortunate in building a team of individuals of the highest quality. Many of our fine staff has been with the company for a quarter of a century, which allows us to boast an astonishing 200 combined years of experience in this industry.
Company Profile: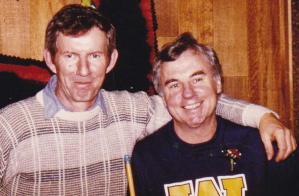 Co-Founders - Brian Harris & Jim Harris
In 1983, Jim Harris with electrostatic equipment and decades of painting experience, and brother Brian with a little cash and accounting ability formed Harris Furniture Finishing Ltd., specializing in the electrostatic painting of office furniture and equipment in the Vancouver marketplace.
Steve Harris and Brian Brubaker were the initial employees and the company grew quickly, expanding the applications to all types of metal surfaces. Jim left in 1988 to form a separate wood finishing company, Harris Furniture Maintenance, his area of expertise. To better describe our services, a name change was needed and we became Harris Coating Systems Ltd. In 1991.

Steve Harris – Co-owner/General Manager
Steve Harris started the business with his father 26 years ago and continues to run it with his partner, Brian Brubaker. Having started out on the crew in the early days, Steve is now actively involved in sales and administration.

Brian Brubaker – Co-owner/Production Manager
Brian Brubaker has been an integral part Harris Coating Systems for 25 years. Like Steve, Brian worked as a crew foreman for the first few years, and now manages the production end of the business.

Paul Cannon – Project Manager
After 25 years of handling the biggest and toughest projects for Harris Coating Systems, Paul has proven himself to be the best in the industry in western Canada. A perfectionist to the end, it's Paul's commitment to quality that has given Harris the reputation it enjoys today.

Larry McCaffrey - Project Manager
Also with Harris Coatings for 25 years, Larry is our most senior foreman with a background in electronics, personable and well liked by all our customers. He is a big part of our winning team.

The Crew - Foreman's assistants
Tyler, Chris, Ryan, Steven, Chuck, and John. These young men are the backbone of Harris Coatings. They are the ones our foreman depend on to do the quality work that we do. They are hard working, dedicated employees who strive to produce results that they can be proud of. We are fortunate to have such a great group of energetic guys working with us.